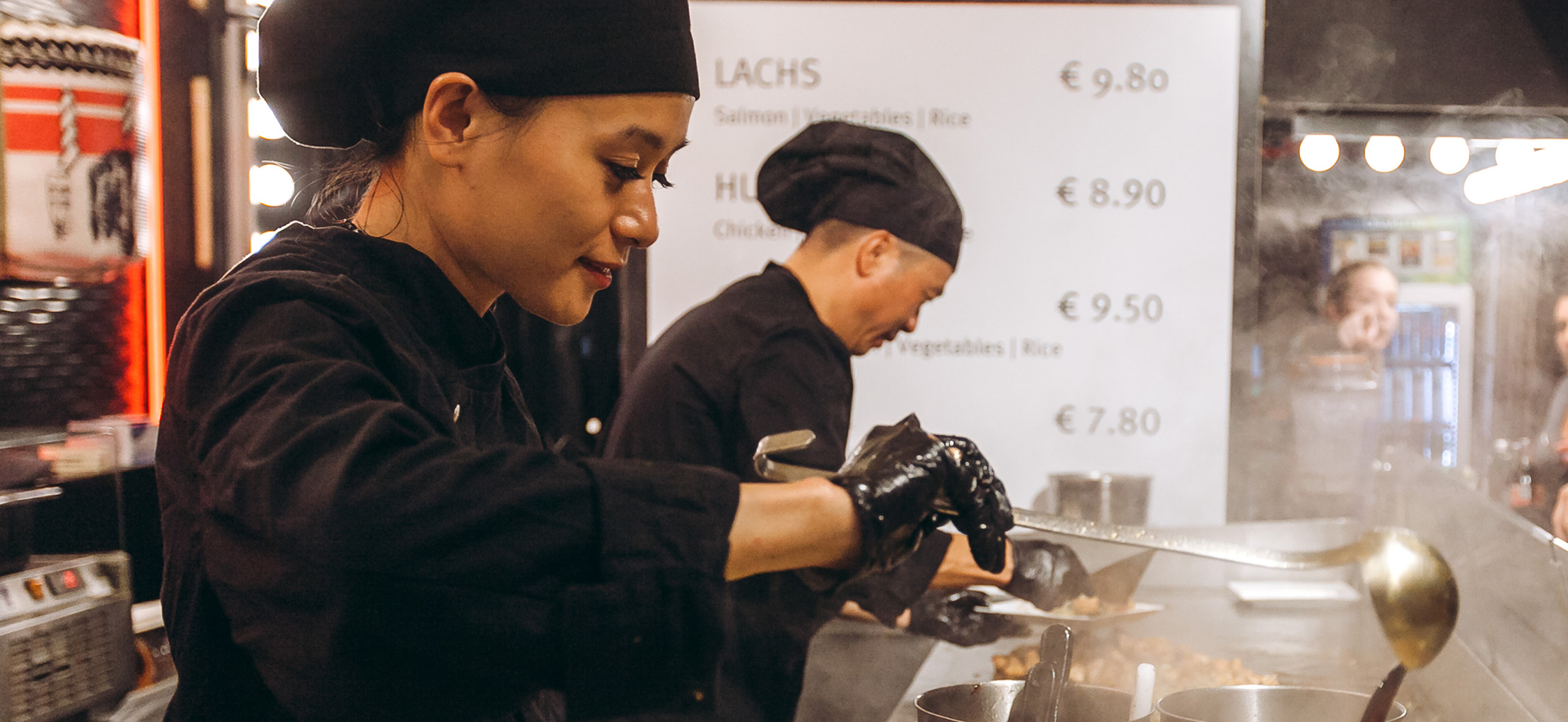 INCLUSION & DIVERSITY
---
To us, diversity means celebrating all the things that make our people unique. Here at DO & CO, we embrace the diversity of our workforce as one of the aspects that contributes to a positive and engaging working environment. We believe that a mix of voices leads to more open, collaborative and constructive conversations and, ultimately, better outcomes for both our people and our business.
DO & CO encompasses respect for others, embraces diversity and ensures that all opportunities are equal and open to all. This is achieved by providing a variety of avenues inclusive to all learning levels. We have made a commitment to our employees to strengthen the company's corporate culture of inclusion and empowerment, such as increasing diversity across our business, whilst putting our focus on leadership. Increasing diversity of leadership is fundamental to corporate advancement, as it helps shaping our culture.
KEY FACTS ON OUR PREVIOUS BUSINESS YEAR
---
OUR PRINCIPLES
DO & CO's culture of inclusion is reinforced within our 3 Leadership Principles Gratitude, Equality and Responsibility, which remind team members to seek diverse perspectives, learn and be curious, and earn trust.


We value
Diversity
Through our focus on women's empowerment, disability and LGBT+ inclusion, we're making sure we draw on the best talent, and give our people the freedom to flourish. It's a vital element in our drive to be an agile, inclusive business that has the skills and resilience to unlock growth.


We value
Equality
We want to accelerate progress in the equality of opportunity and women's empowerment, as we believe them to be central to our business growth and our social impact. By empowering women in our workplaces and our value chain, we proactively work towards reducing the gender gap in our society.


We value
Human Rights
Diversity can only flourish in an environment that welcomes and nurtures an inclusive and agile culture of the kind we want to build. Therefore DO & CO encourages all of its employees to respect the dignity and human rights of colleagues and all others they come into contact with as part of their jobs.
OUR PROGRESS ON DIVERSITY & INCLUSION
---
OUR HIRING PRACTICES
---
DO & CO is committed to do business in a sustainable way to ensure our future generations have the best preconditions. With this in mind, the company works to identify the best possible talent from all backgrounds. In the UK, the company participates in the BAME programme which allows for targeted recruiting for unerrepresented minorities. Through our accessible hiring process, DO & CO enables aspiring individuals from all backgrounds to follow their passion and find their best future.
REPRESENTATION AT DO & CO
---
Representation matters. We track the representation of women and underrepresented  ethnic minorities because we know that diversity helps us build better teams which are spread out over our global customer base. The company attaches great importance to equal treatment across all genders in appointing people to leadership positions as well as ensuring equal pay. The filling of management positions at DO & CO Aktiengesellschaft and its subsidiaries takes place in a balanced manner, as demonstrated by the high share of women in senior management positions at the company.
OUR STAND ON SOCIAL RESPONSIBILITY
---
Our Human Rights Policy confirms our respect for human rights and articulates how our values inform our approach to human rights throughout our corporate activities, with a focus on our associates, customers, supply chain and the communities in which we operate